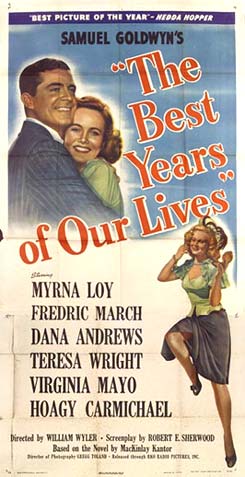 The superb, eloquent, and realistically-intimate film was nominated for eight Academy Awards and won seven Oscars: Best Picture (Samuel Goldwyn's sole competitive Oscar win), Best Actor (Fredric March - his second Oscar - the first was for Dr. Jekyll and Mr. Hyde (1932)), Best Supporting Actor (Harold Russell), Best Director (William Wyler - his second of three career Oscars), Best Screenplay (Robert E. Sherwood), Best Editing, Best Musical Score -- its nomination for Best Sound was the only one that failed to win. Real-life double amputee (from a ship explosion) and one of the cast's inexperienced actors - Harold Russell received an additional Special Honorary Oscar "for bringing hope and courage to fellow veterans" for his first performance. [Russell is the only actor ever to win two Oscars for the same role.

Did You Know??


-
Director William Wyler was furious when he learned that Samuel Goldwyn had sent Harold Russell for acting lessons; he preferred Russell's untrained, natural acting.
-
Wyler wanted a completely un-glamorous look, requiring all costumes to be bought off the rack and worn by the cast before filming, and making sure all sets were built smaller than life-size.
-
In order to give the film a documentary-style realism, the director drew each member of the crew - props, grips, mixers, etc. - from the ranks of WWII veterans.
-
This was the first movie in history to feature a disabled actor in a major role. It was also the first to deal directly with intimacy issues between disabled and non-disabled people.

http://www.filmsite.org/besty.html

Watch

The Best Year Of Our Lives

Clip HERE