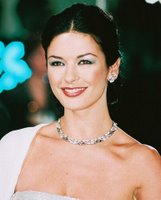 Sharon Stone
is raving mad because she insists
Lana Turner
wanted her to play Lana Turner before she died! But a new film has
Catherine Zeta-Jones
playing Lana Turner opposite
Keanu Reeves
. Sharon ain't having that shit!
The Postman Always Rings Twice actress met Stone before she died of throat cancer in 1995 and Stone reveals Turner wanted her to star in a movie celebrating her life. The film will look at eight-times married Turner's tumultuous marriage to gangster Johnny Stompanato, to be played by Keanu Reeves, who was killed in 1958 by her daughter Crane.
Stone says, "I met Lana in her final years and liked her a great deal. She was every inch the movie star and we got along really well. She said if there was a film to be made on her life, then I was her choice. Lana's life is one of the more interesting of the Hollywood greats. Lana really rocked."