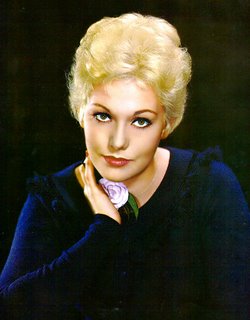 Kim Novak was one of the last of the "manufactured" screen goddesses and Columbia's answer to Marilyn Monroe,
She was born Marilyn Pauline Novak and raised in Chicago, the daughter of a Czech railroad man. Before she was discovered in Los Angeles by Columbia Pictures helmer Harry Cohn (who chose her as a replacement for his increasingly difficult and rebellious reigning screen goddess Rita Hayworth)


Kim had a more refined sex appeal than the other blond goddesses of the 1950's. She radiated a kind of mystery that harked back to the days of Garbo and Dietrich. Onscreen Kim Novak seems distant, enigmatic, thoughtful and somehow sad. , the melancholy blonde and the lavender blonde. The studio created the idea that lavender was Kim Novak's favorite color as part of her movie star image. However, The term Lavender Blonde fits Kim Novak - it sets her apart from the sunny Doris Day or the gilded Marilyn Monroe.


Her first real break as a wistful country girl seduced by drifter William Holden in

"Picnic" (both 1955

). It was a pared-down, subtle Novak who earned good notices as the caring neighbor who helps Frank Sinatra kick his drug addiction in Otto Preminger's "

The Man with the Golden Arm" (1955

). But the studio was still intent on exploiting her sex appeal and put her in vehicles like the ill-advised biopic "Jeanne Eagels" (1957) and she was overshadowed by co-stars Sinatra and Rita Hayworth in the musical "

Pal Joey" (also 1957).

When Vera Miles, who was originally cast opposite Jimmy Stewart in Vertigo

,

became pregnant, Kim Novak got the part, on loan from Columbia to Paramount. Though the film didn't do well at the time, it was later hailed as Hitchcock's masterpiece, and became Novak's signature role.


ovak even had a go at series TV spending the 1986-87 season as a regular on the CBS primetime soap

"Falcon Crest",

playing a woman of mystery on the run from criminals. Ironically, her character's name was Kit Marlowe, one of the screen names that Harry Cohn had suggested for the actress at the start of her career. Her last screen performance to date was as a dying matriarch in Mike Figgis' "Liebestraum" (1991).