Despite her angelic appearance, Gene Tierney proved herself to be an
actress who could play jealous, conniving women very effectively... and
she did just that in several of the three-dozen films she made in the
1940s and '50s, most of them for 20th Century-Fox.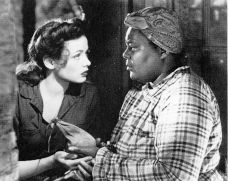 Tierney with her Mammy Lou (Louise Beavers)
in BELLE STARR (1941), which features the beautiful brunette as the
title character, a passionate, headstrong Southern belle turned
notorious female outlaw in post-Civil War Missouri. One of her
earliest films for 20th Century-Fox
and a movie rarely screened in any format anymore, BELLE STARR contains
some of the 1940s' most derogatory depictions of American
negroes. (Such derisive caricatures would be toned down
considerably after the United States entered World War II in an effort
to promote racial unity.) In the context of Tierney's career,
BELLE STARR exemplifies the kind of diverse starring roles the young
actress played early in her career before the executives at Fox really figured out what to do with her.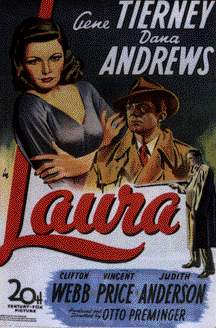 Although she had already starred in almost a dozen films, it was
LAURA (1944) that established Tierney's most popular screen persona and
became her most famous film. Also starring Dana Andrews, Vincent Price, Clifton Webb and Judith Anderson, Otto Preminger's
masterful film-noir murder mystery LAURA features Tierney as the title
character, an apparent murder victim whose glamorous, alluring portrait
haunts the detective on the case.
It is interesting to note
however, that this quintessential film noir was not so described at the
time of its release because the term "film noir" (used to describe
movies with cynical, imperfect heroes and a dark, brooding photographic
style) was not invented by French film critics until the mid-1950s when
they were finally able to see the Hollywood films, like LAURA (1944),
that had been unavailable in Nazi-occupied France during World War II.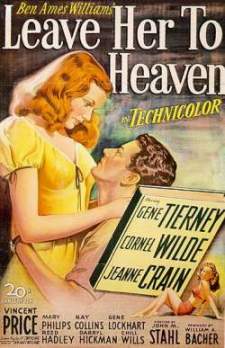 Having finally found her niche, Fox next assig
ned Tierney to headline its adaptation of Ben Ames Williams' novel LEAVE HER TO HEAVEN (1945) with Cornel Wilde, Vincent Price, Jeanne Crain and Gene Lockhart.
Tierney received her only career Best Actress nomination for her
portrayal of Ellen Berent, a jealous wife who will stop at nothing to
keep her husband all to herself. Although LEAVE HER TO HEAVEN was
shot in Technicolor, and even earned an Academy Award for Leon
Shamroy's color cinematography, many critics still consider it part of
the film-noir genre because of its dark storyline and moody atmosphere.
(Usually, "noir" films involve claustrophobic, urban storylines and are
shot in black-and-white.)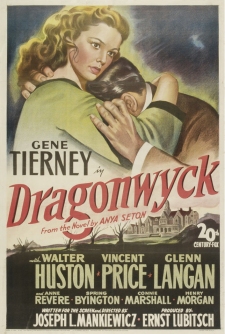 In DRAGONWYCK (1946), her fourth and final film with actor Vincent Price,
Tierney plays a tenant farmer's daughter who is sent to live in the
mansion of her father's wealthy landlord, Nicholas Van Ryn (Price),
but soon finds herself caught up in romantic and political intrigue
when the farmers revolt against the aristocrats. Set in mid-19th
century New York, this gothic noir-thriller features noteworthy
supporting performances by Anne Revere, Henry Morgan and Spring Byington and also marked the directorial debut of screenwriter-director Joseph L. Mankiewicz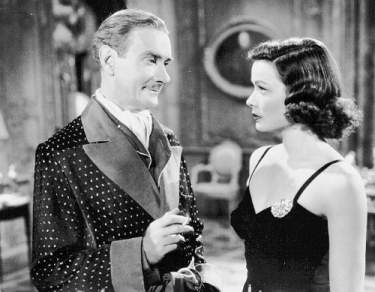 Tierney as Isabel Maturin with French society snob Elliott Templeton (Clifton Webb)
in the film adaptation of W. Somerset Maugham's THE RAZOR'S EDGE
(1946). This story of childhood friends who grow up and go their
separate ways was nominated for four Oscars including Best Picture, and
featured an all-star cast including Anne Baxter, John Payne, Tyrone Power, Herbert Marshall and Elsa Lanchester.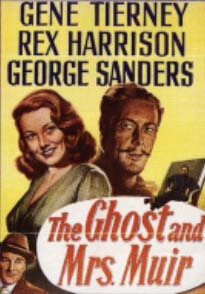 In Joseph L. Mankiewicz's
THE GHOST AND MRS. MUIR (1947), Tierney plays a widow who moves into a
haunted seaside house and falls in love with the ghost of its former
sea captain inhabitant (played by Rex Harrison).
Though the story sounds a little far-fetched, it actually makes a
pretty good fantasy/romance, and contributions from supporting
characters played by George Sanders, Natalie Wood and Anna Lee as well as Bernard Herrmann's music and Charles B. Lang's Oscar-nominated cinematography only elevate its status as a top-notch film.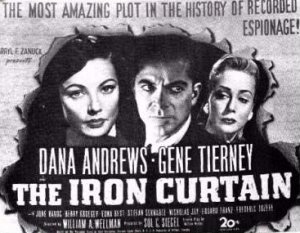 In the late 1940s, Tierney was again teamed with one of her most frequent co-stars, Dana Andrews,
with whom she had previously appeared in BELLE STARR, TOBACCO ROAD
(both 1941) and LAURA (1944). Their fourth joint appearance for Fox, William Wellman's THE IRON CURTAIN (1948), was a successful spy film featuring Tierney and Andrews as a married couple trying to sneak top-secret documents out of the Communist east.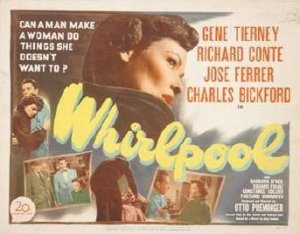 Reunited with her LAURA director, Otto Preminger,
Tierney continued her success playing beautiful, yet cool and distant
film-noir heroines in WHIRLPOOL (1949), a complex crime drama about the
wife of a psychoanalyst (Richard Conte) who falls under the spell of a
malicious hypnotist (José Ferrer).

reel.com