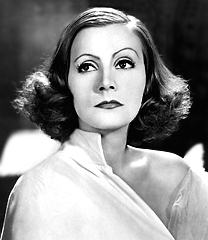 Though I love watching old movies, there are many super stars whose work is unknown to me. Garbo is one of them. I'm fairly familiar with her legend, but up until I saw NINOTCHKA
Before she walked away from the movie business, at the age of 35, Greta Garbo just decided to make a film that was the opposite of everything she had done before: a screwball comedy.
.
MGM's film promotions and publicity used the slogan: "Garbo Laughs!" capitalizing on the legendary Garbo mystique and persona and promising to humanize it. She succumbs to laughter in the film when her co-star falls clumsily from a cafe chair after a joke he has told fails to produce a response. [This was shade of an earlier campaign for her talkie debut in Anna Christie (1930) - "Garbo Talks!"] Additional ads proclaimed: "Don't pronounce it - see it!"
A whole movie full with tresure. Garbo was mavelous . I fall in love to Mervyn Douglas. He is so charming .There're great supporting characters (particularly the three men from Russia) including Bela Lugosi as the Commissar. Garbo, the picture, the story and its screenplay by Billy Wilder and Charles Brackett were all Oscar nominated, with each losing to Gone With the Wind (1939). Added to the National Film Registry in 1990. #52 on AFI's 100 Funniest Movies list. #40 on AFI's 100 Greatest Love Stories list. Directed by great Ernest Lubitsh.